FoSELS (Friends of Slip End Village (Lower) School) is made up of parents and local people who help raise funds to support the school enabling pupils to have access to resources and provision that may otherwise be impossible. They organise a number of events and activities each year, which are fun, as well as provide an opportunity to raise money for the school. Previous events have included Quiz Nights, Christmas Disco, Summer Fayre and Ice Lolly sales after school.
Most recently, a class set of Kurio devices has been purchased by FoSELS through which pupils have been able to access the Flurrish App to help them learn their times tables. Tremendous results have been achieved at Caddington Village School through the use of the app and we are already beginning to see this same success at Slip End too..
FoSELS are always looking for volunteers to help with events or join the committee. If you are interested then please contact the FoSELS Chairperson Claire Penney, alternatively contact the school office who will pass on your details.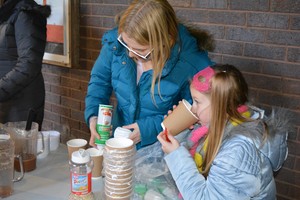 Hot chocolate after school helped to warm us up in the autumnal weather.
.