***Welcome to Slip End Village School's website***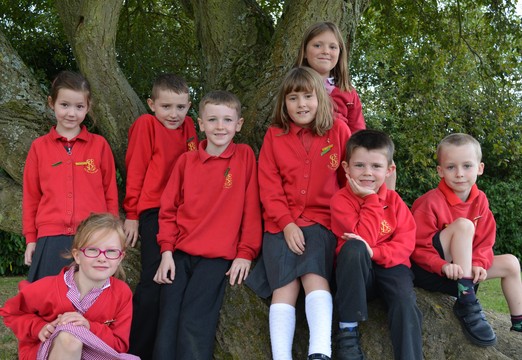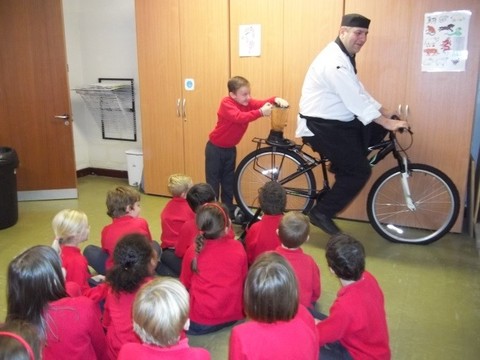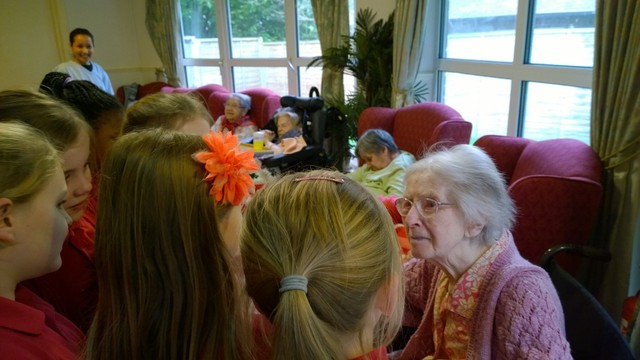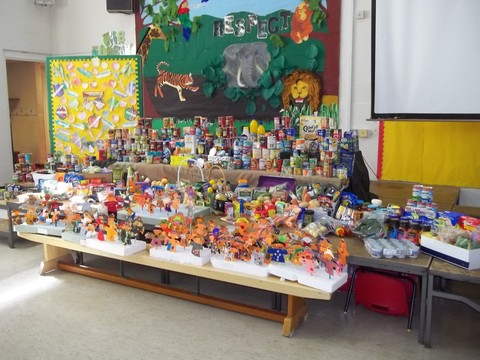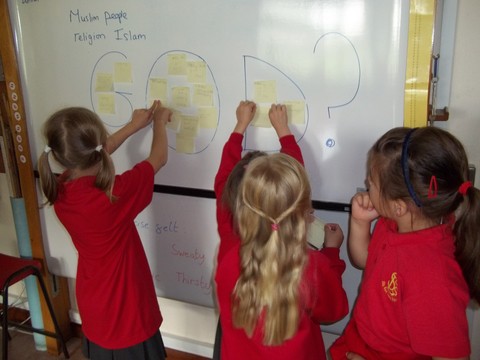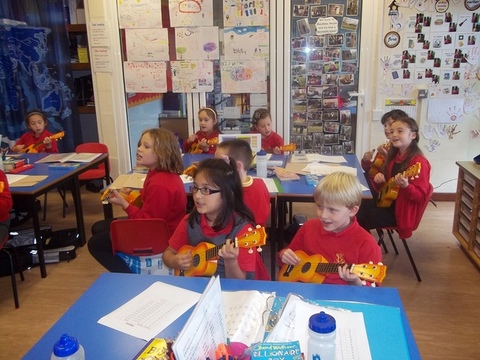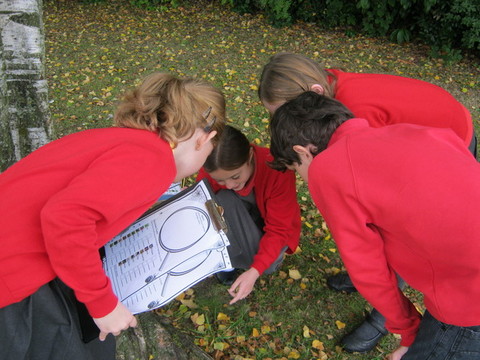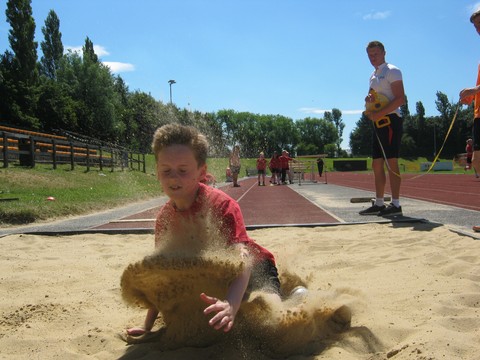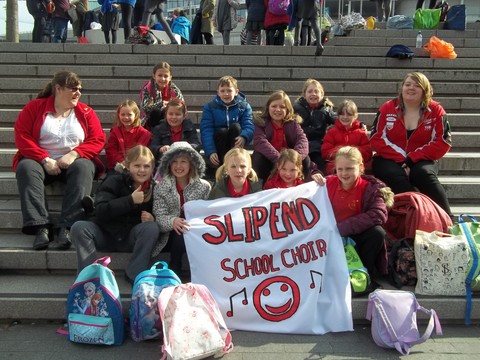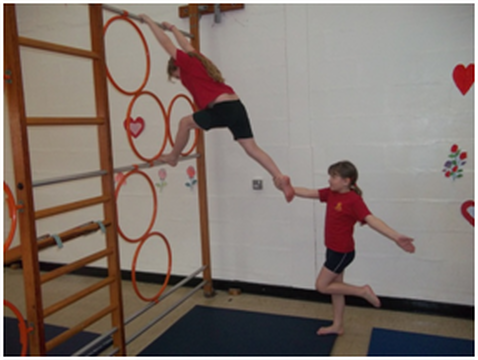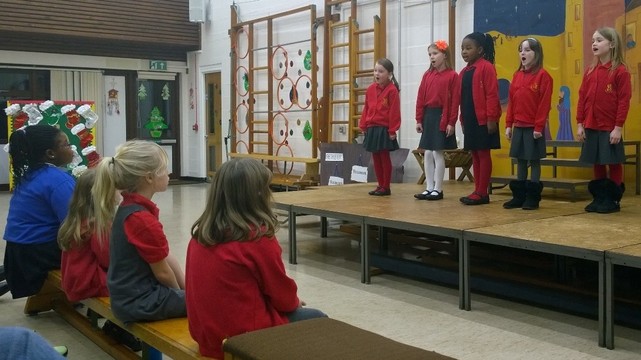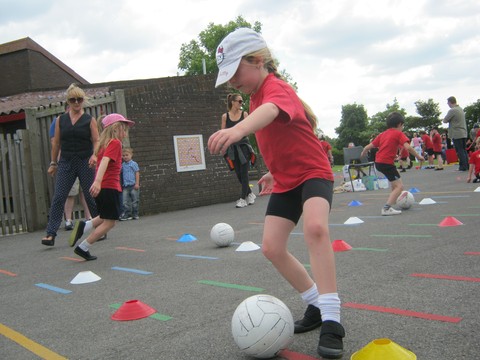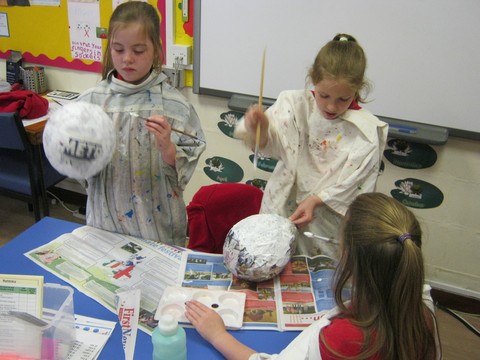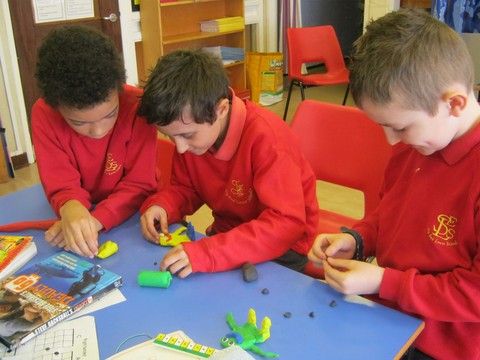 ***Our School Value of the Month is RESPECT***
Welcome

A warm welcome to Slip End Village School's website. We hope that you find the information on these pages useful and discover what makes Slip End a unique place where children are able to learn, grow and flourish.
From September 2015, Slip End became a primary school, taking its first Year 5 intake; September 2016 will see us take our first Year 6 class. Currently we have approximately 145 pupils on roll and this will expand to 170.
In 2010, Slip End received the Ofsted grading of 'Outstanding' and we are still very proud of this achievement today. Our pupils display an infectious enthusiasm for learning and their cheerfulness, friendly manner and excellent behaviour make them a joy to teach. Staff at Slip End are hard-working and passionate about helping children to achieve their potential. Our strapline 'Learning and Growing Together' underpins our ethos and all that we do.
Along with Caddington Village School, we form the 'Caddington and Slip End Area Alliance'. As federated schools, we are keeny supported by a joined Governing Body; Sue Teague is the Executive Headteacher.
Slip End holds a special place at the heart of the community and the collective support we receive from parents and villagers is very important to us We would be delighted to share more of our school's life and learning with you so please consider arranging a visit to come and see us. You would be more than welcome.
Amanda Howes
Head of School
VE Day
For VE day, everyone wore red, white and blue to school and took part in a range of activities to learn about the history of the event.
Below you can view the PowerPoint used in our special VE assembly.
Year 4 Bulb Planting at Woodside Residential Home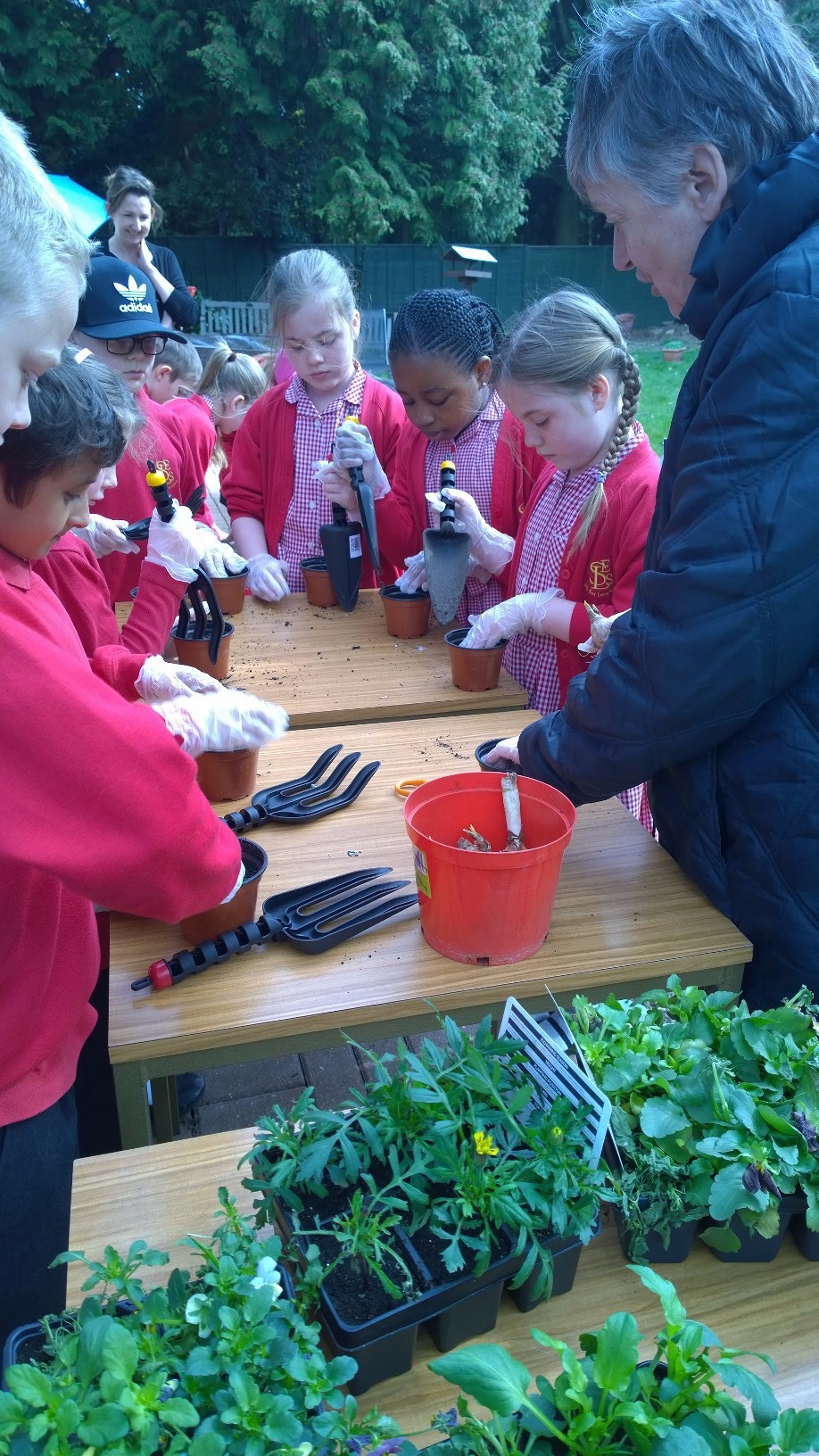 Our Year 4 pupils were able to lend a helping hand at Woodside Residential Home by planting an array of plants and bulbs to brighten their garden. The children are looking forward to returning in the summer term to host a garden tea party for the residents.
Voice in a Million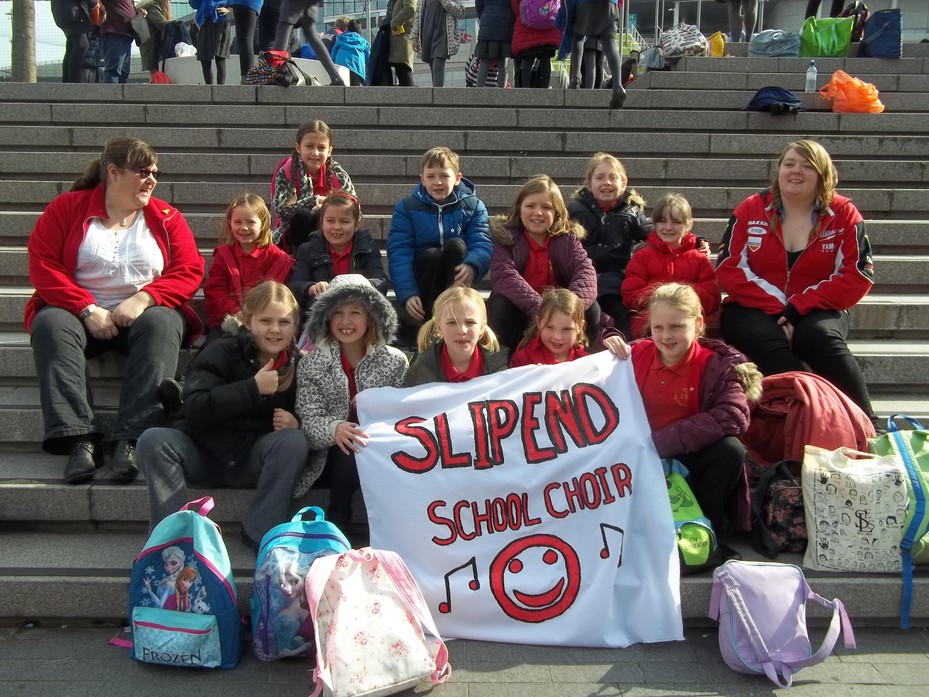 What a wonderful opportunity it was for our school choir to take part in 'Voice in a Million' at Wembley Arena on 11th March 2015. Our pupils sang a range of songs with thousands of other children from around the United Kingdom. It really was a spectacular event. Well done everyone!
Queen's Park Faith Tour
In February 2015, our Year 3 and 4 pupils took part in the Queen's Park Faith Tour where they visited Guru Nanak Gurdwara, Westborne Road Mosque and All Saints Parish Church in Bedford. They enjoyed an inspiring day learning how people from the different faith groups work together to serve their community and exploring the different places of worship.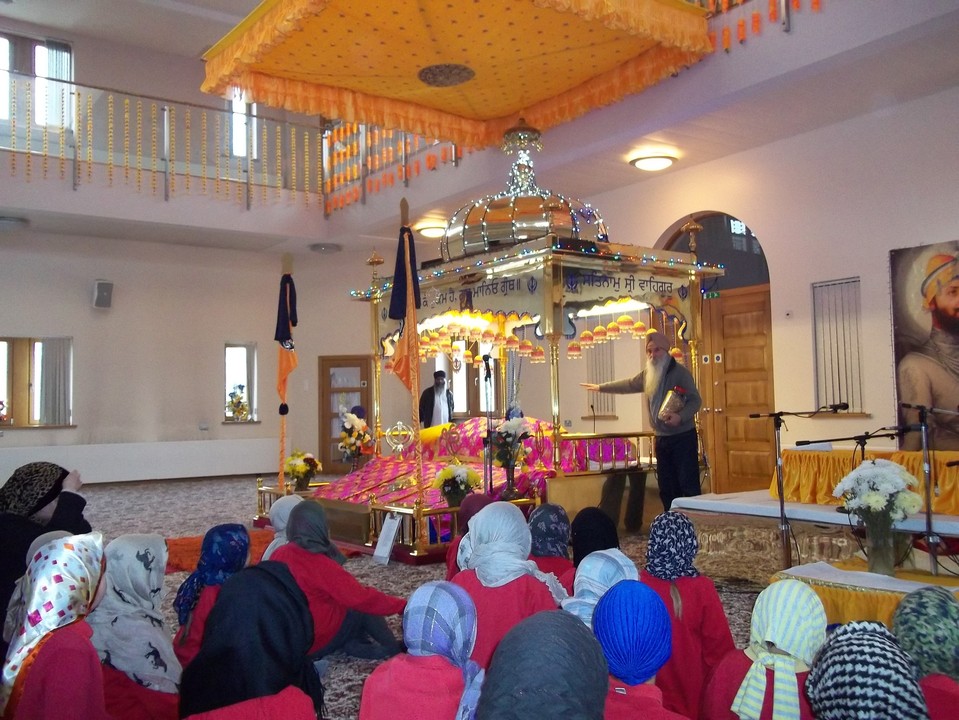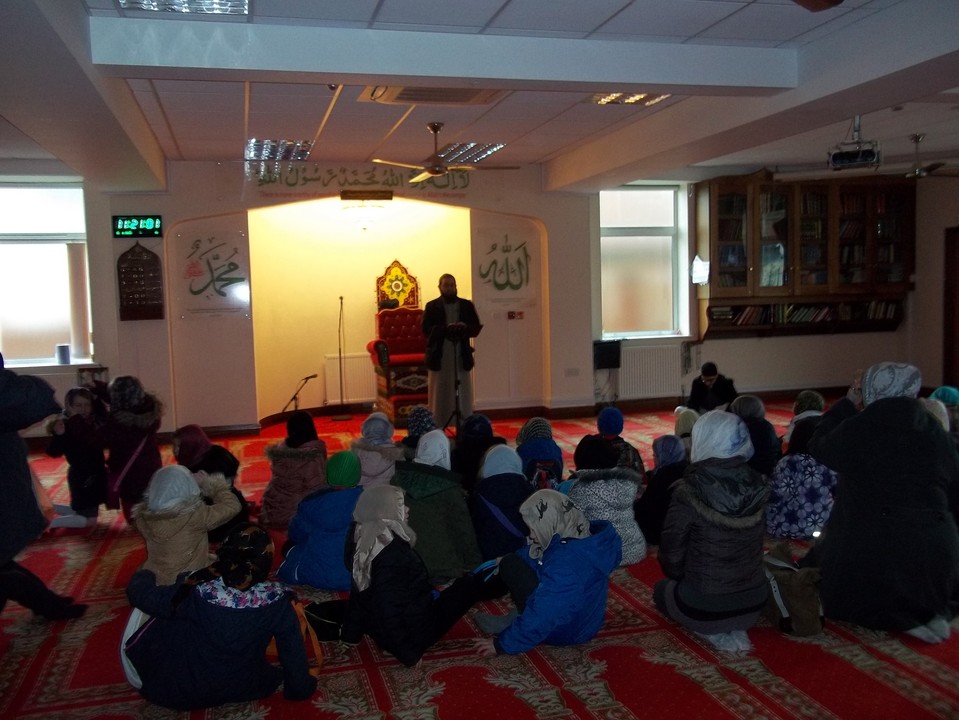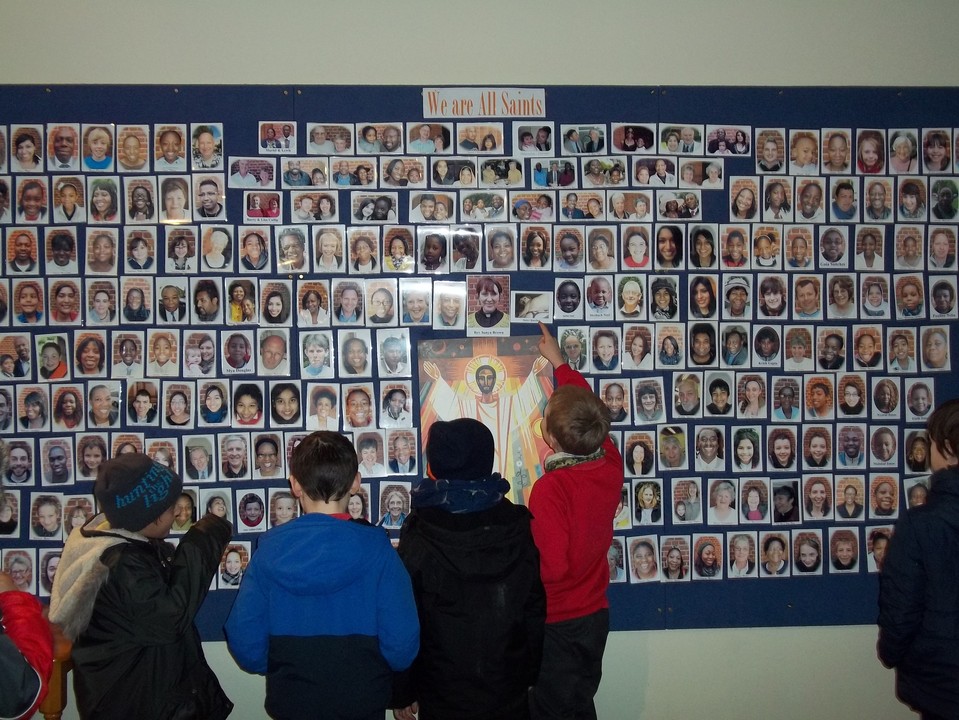 Rugby World Cup Day
On Friday 18th September 2015, Slip End celebrated the start of the Rugby World Cup. Children worked in mixed aged teams throughout the morning to research the various countries taking part in the competition. In the afternoon a special assembly showcased their work, 'Swing Low, Sweet Chariot' was sung and some of the children performed their own haka. The day was a huge success and a great opportunity for the whole school to work together and demonstrate the values of cooperation and teamwork.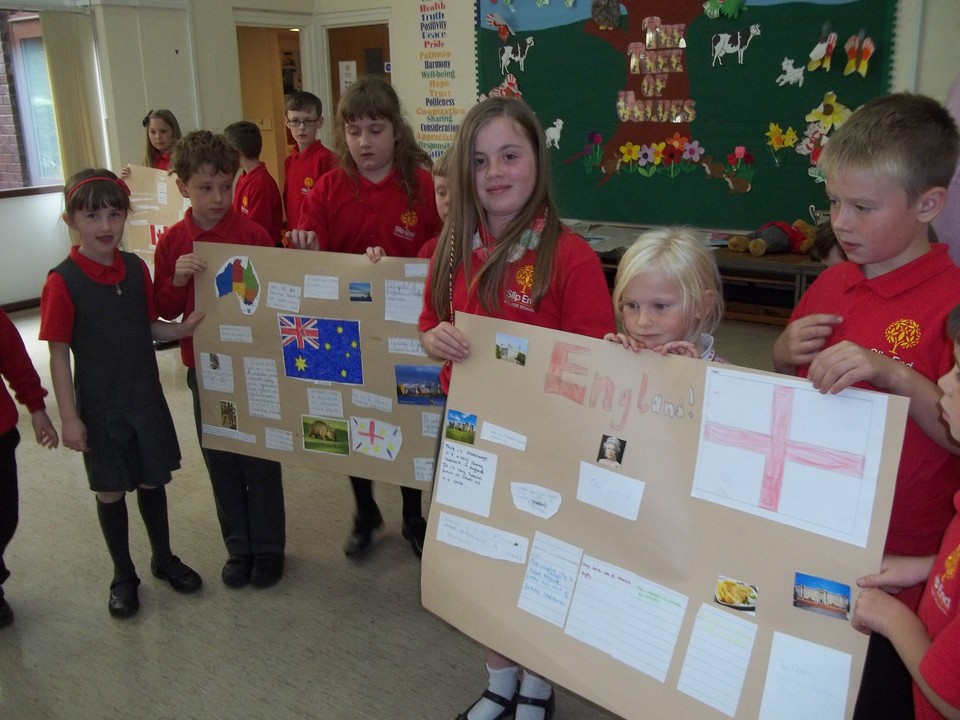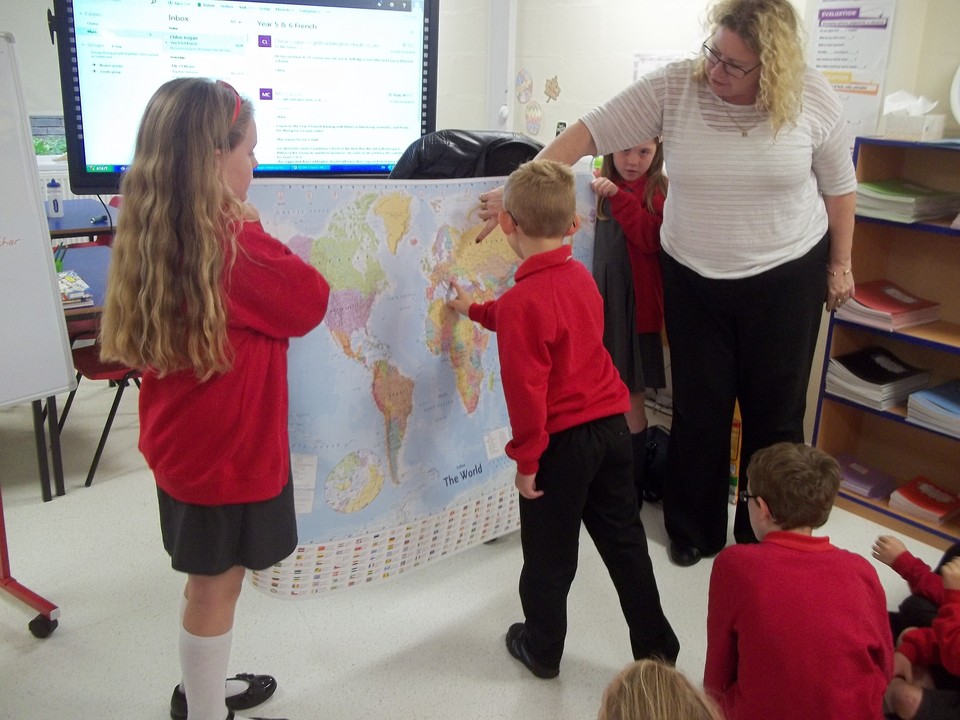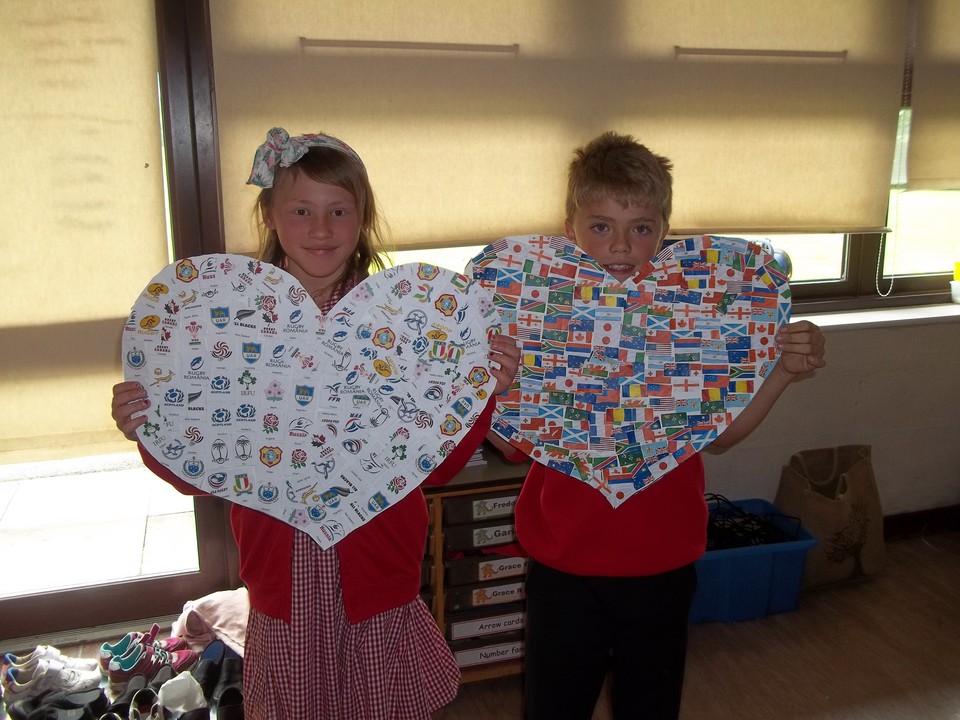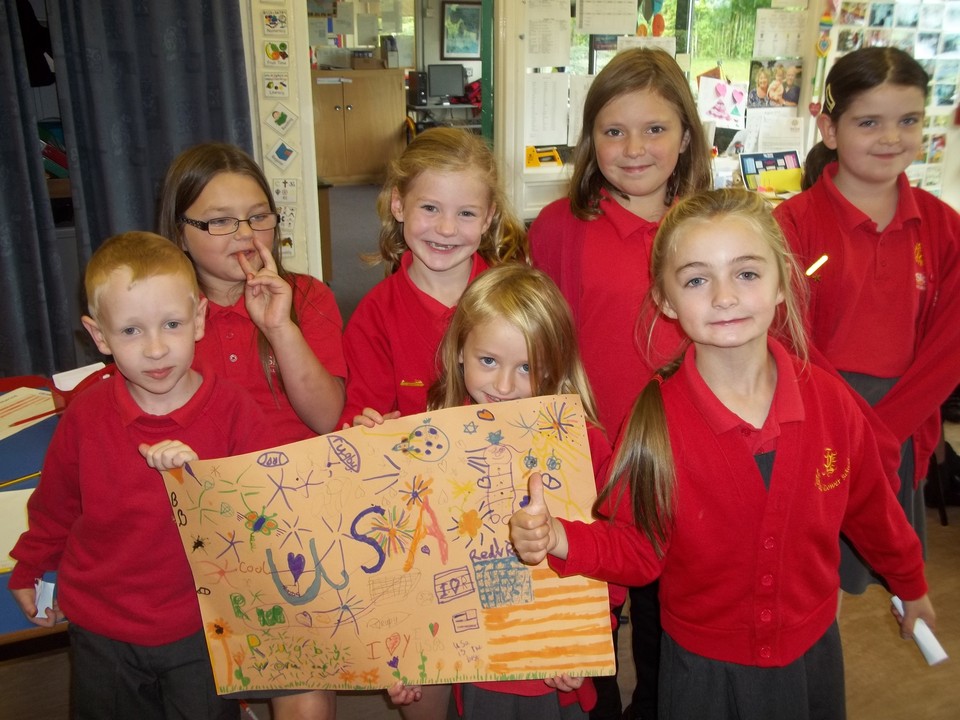 German Partnership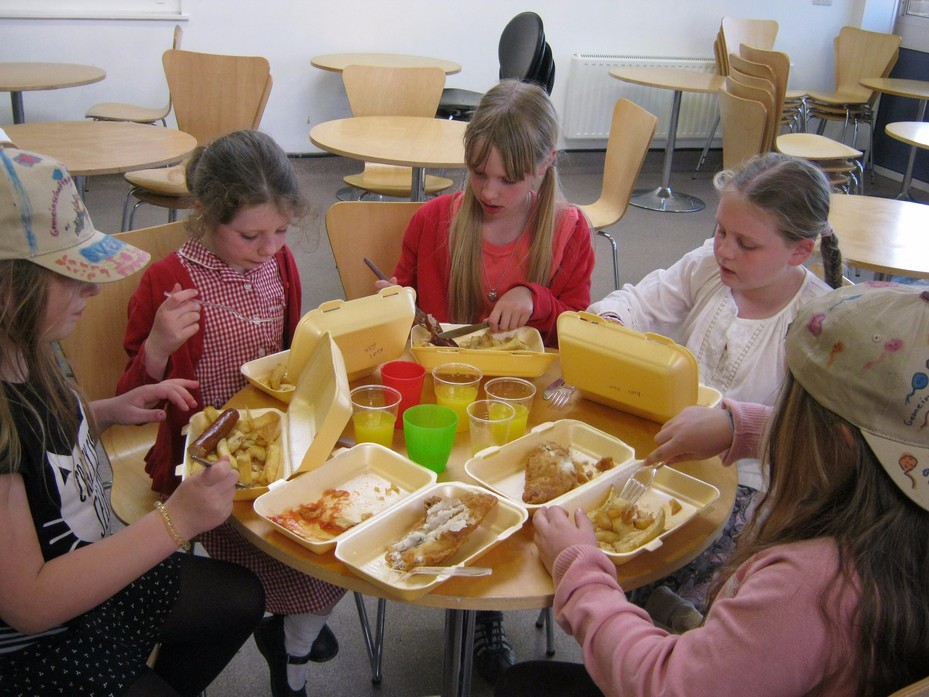 It was wonderful to be able to welcome our German friends from Eitoft to Slip End and Caddington. The children and staff spent 3 days together sharing culture and having lots of fun. In the photograph above you can see the children enjoying a traditional, British fish and chip supper. It will very soon be our turn to visit Germany...we can't wait!
Election Day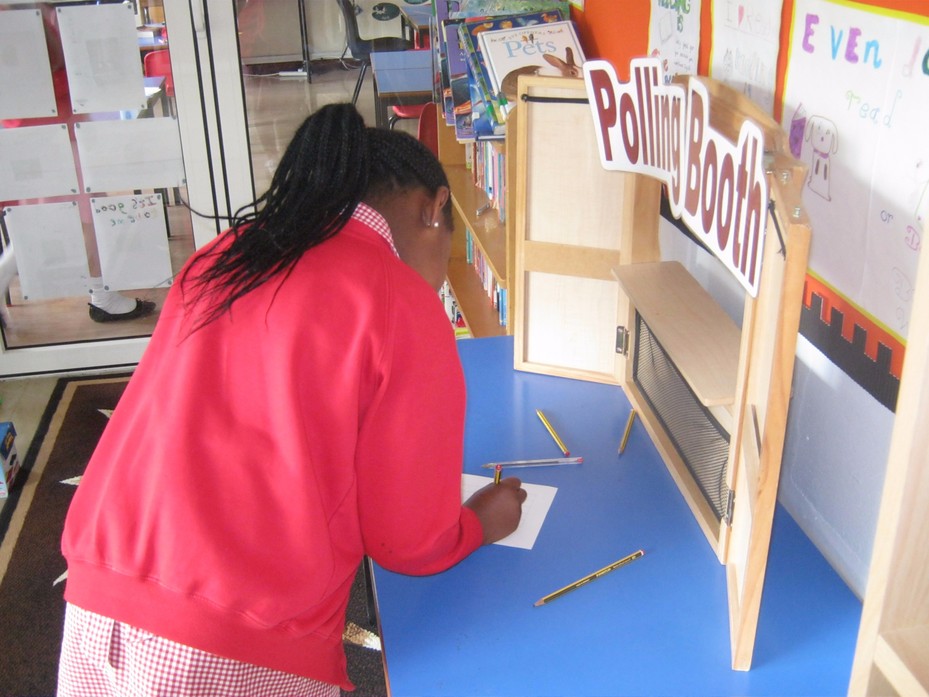 Election Day was full of excitement here at Slip End Lower School. Following a visit to school by Ballot Box adjudicator, Mr. Lewzey, the children created their own parties, wrote a manifesto and held a polling event. The 'Sweet Party' won the election.
Chinese Dance Workshop
Our Year 1 and 2 pupils enjoyed learning about the history and tradition of Chinese dancing as part of a special workshop. The morning culminated with the children performing a dragon and a parasol dance to the rest of the school. A truly colourful performance!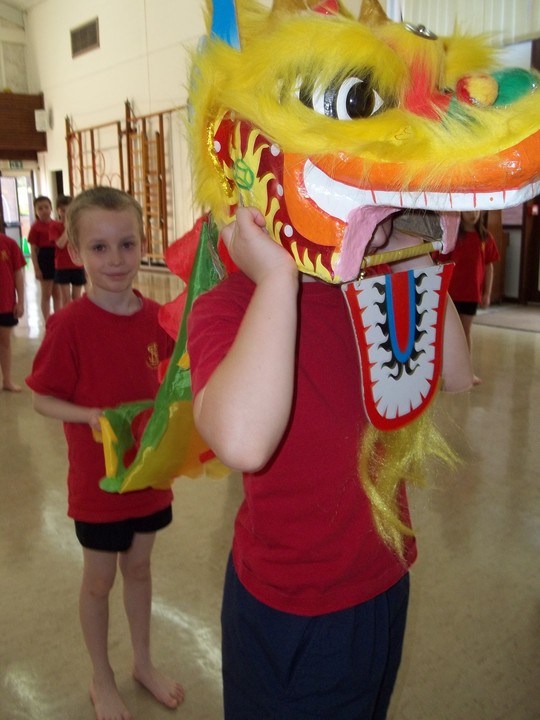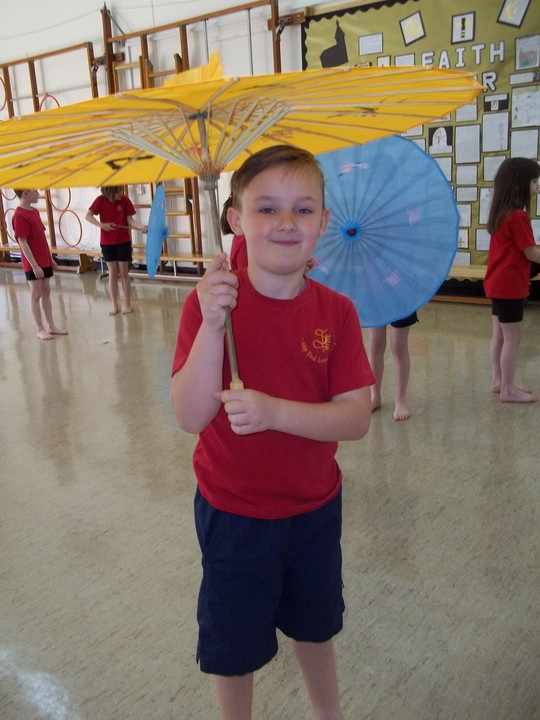 St. George's Day
Pupils belonging to uniformed organisations wore their uniforms to school to celebrate St. George's Day. Beaver Leader, Mrs. Allnutt also joined us.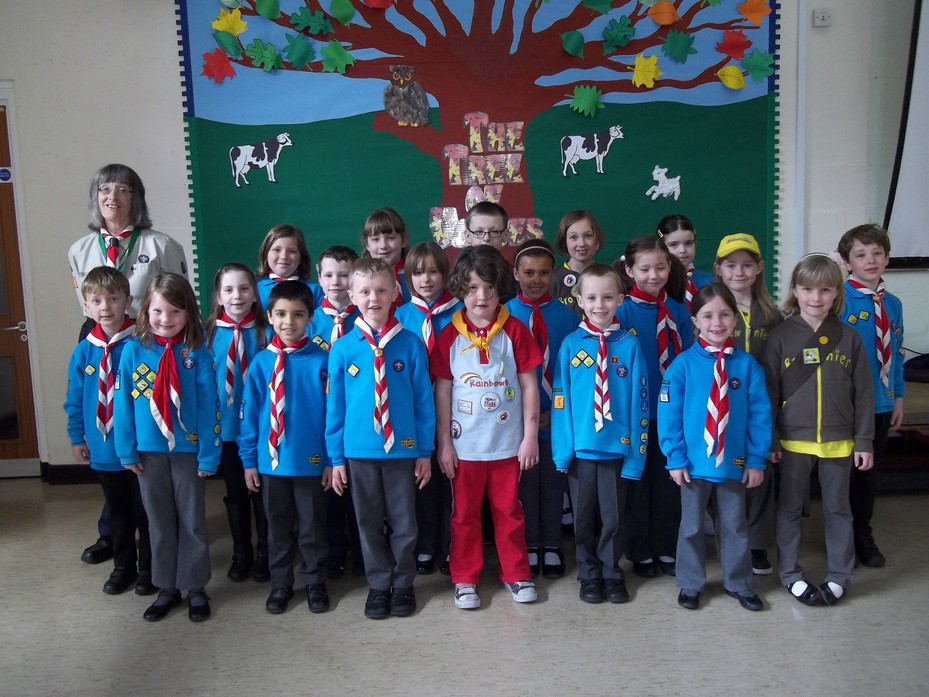 World Book Day
Celebrating World Book Day has become a traditional, annual event at Slip End Lower School; this year was no exception!
Everyone in the school, pupils and staff, dressed up as famous book characters for the day. Mary Poppins, The Cat in the Hat and Robin Hood, to name but a few, were all there; it was amazing to see the diverse range of children's literature represented. Thank you to everyone who provided costumes and helped to make the day so successful.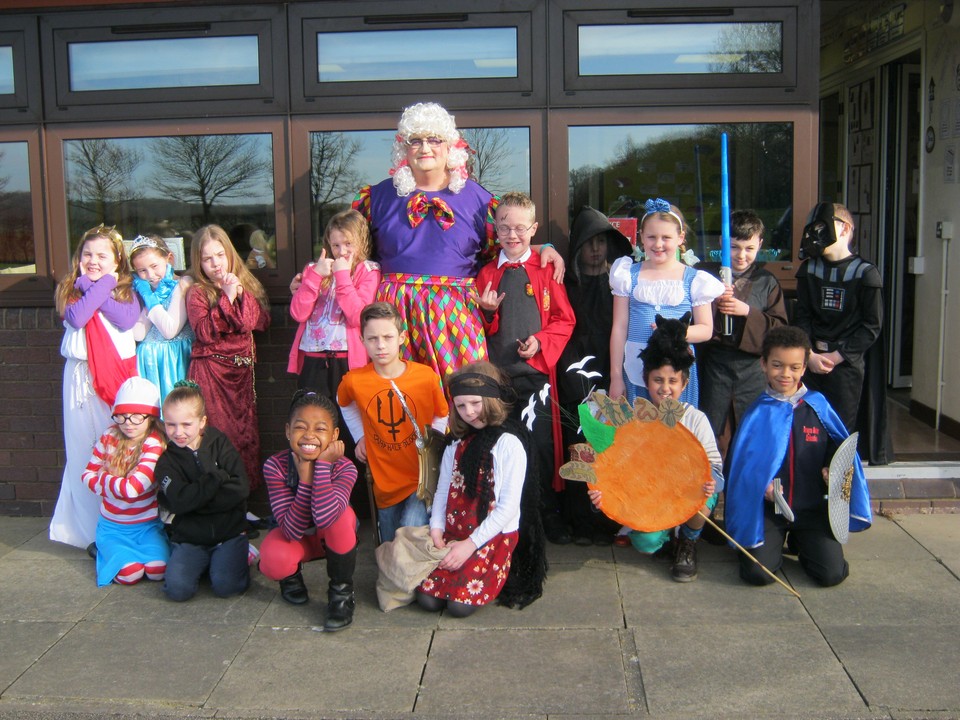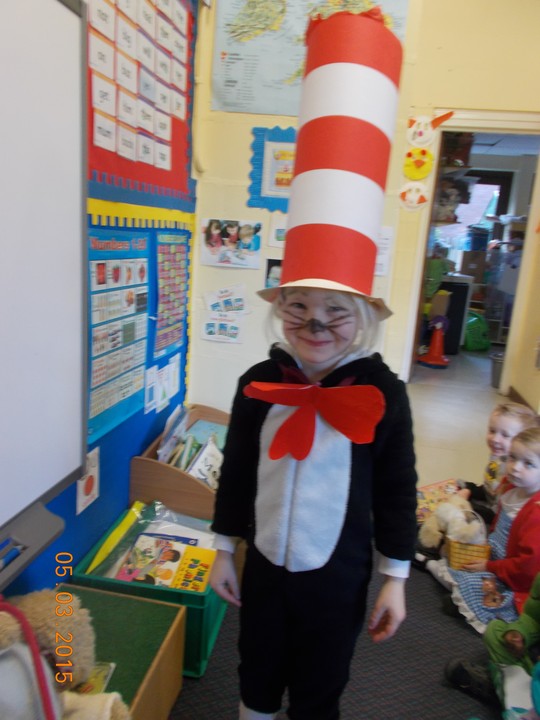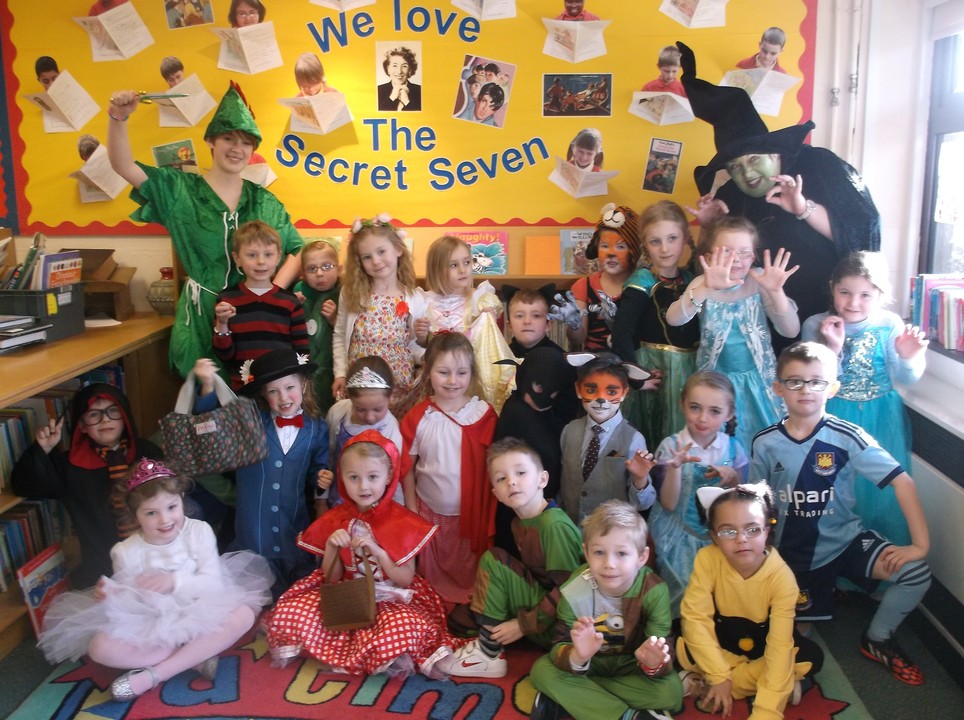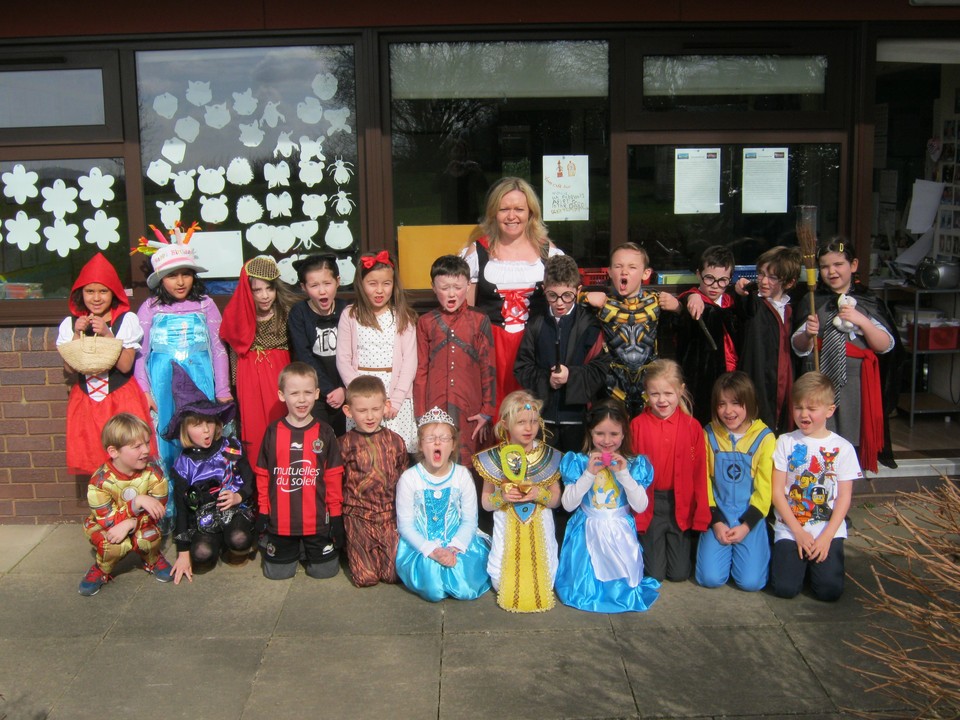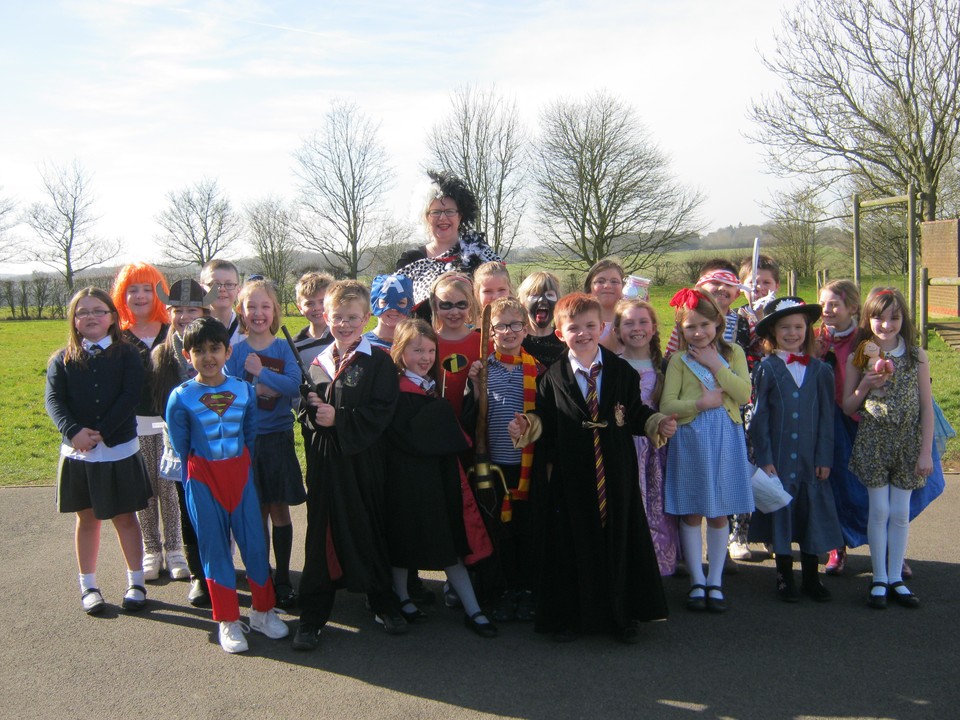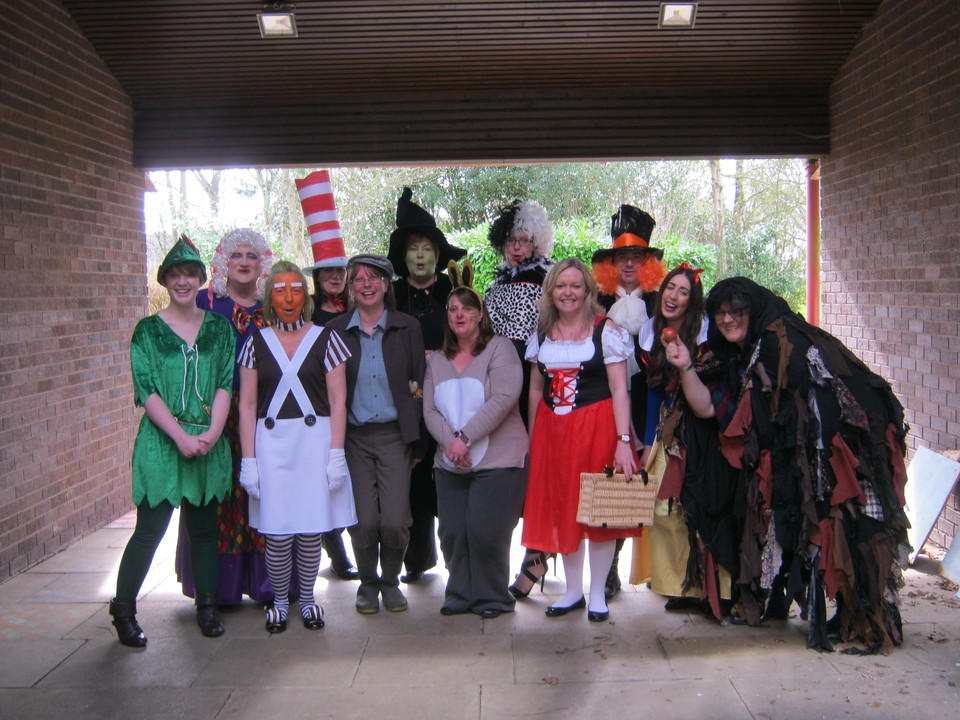 Year 4 Viking Day
Year 4 had a fantastic day at Caddington Village School in March 2015 building a Viking longboat. Thank you to everyone who made the day such a huge success. Please watch our time lapse video below to see what an amazing day they had.
Latest School Calendar Events
Parent Consultation Meetings

05

Oct

2015

3:40 pm - 7:00 pm

Full Governors Meeting

14

Oct

2015

7:00 pm - 9:00 pm

Working at Age Related Expectations workshop - how to make sure your child makes progress and succeeds at school

15

Oct

2015

7:00 pm - 7:30 pm

R/KS1 Celebration Assembly

21

Oct

2015

2:45 pm - 3:00 pm

KS2 Celebration Assembly

22

Oct

2015

2:45 pm - 3:00 pm
Severe Weather
In the event of extreme weather conditions, please check the Central Bedfordshire SOS system for information on school closures by clicking here.
EYFS Easter Raffle
Thank you to everyone who took part in our Easter raffle which raised a staggering £449.00. This enabled us to buy not just one but two social bikes and we had enough money left over to buy a play rug too. Huge thanks.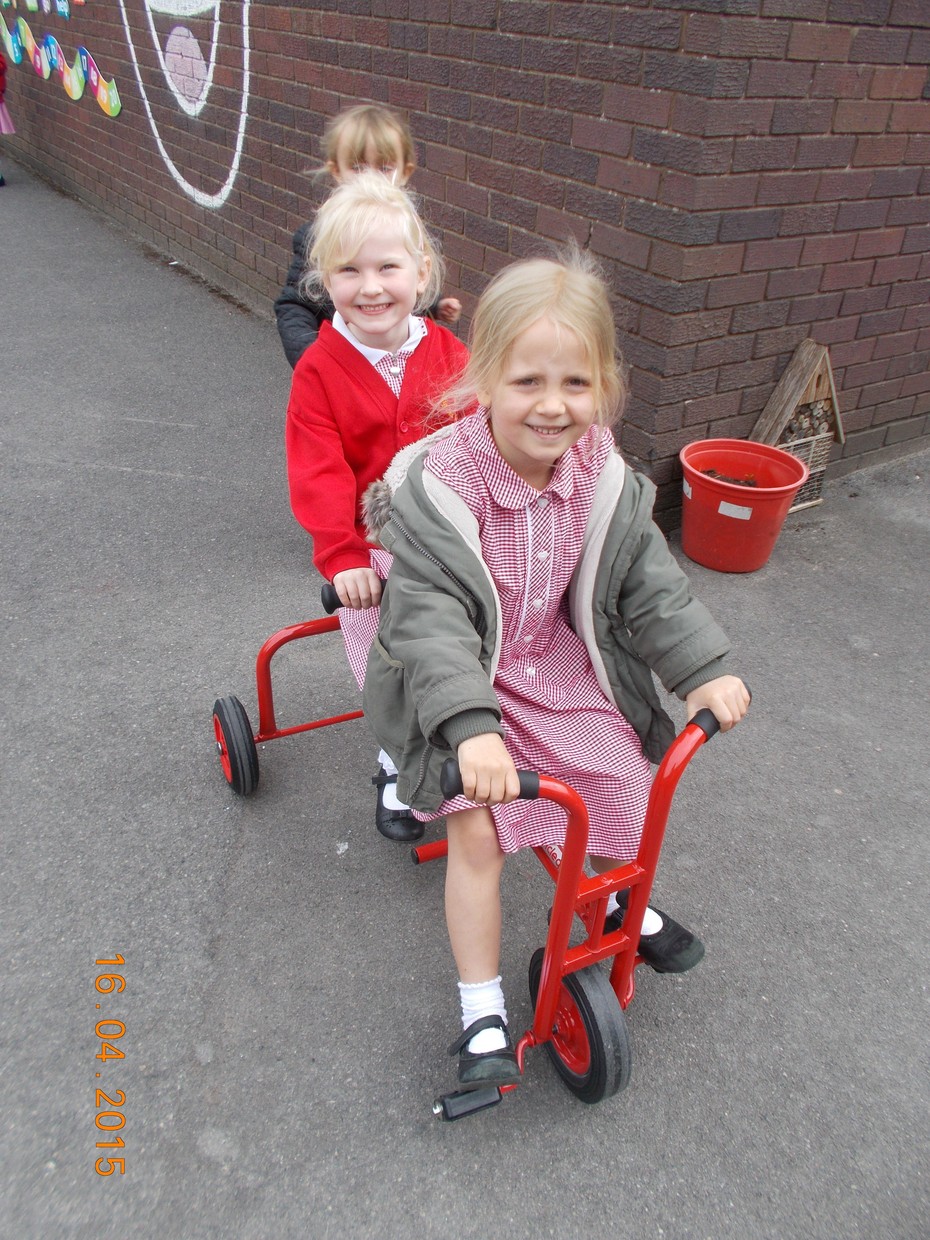 Charitable Giving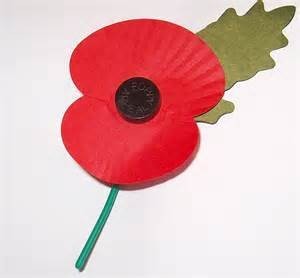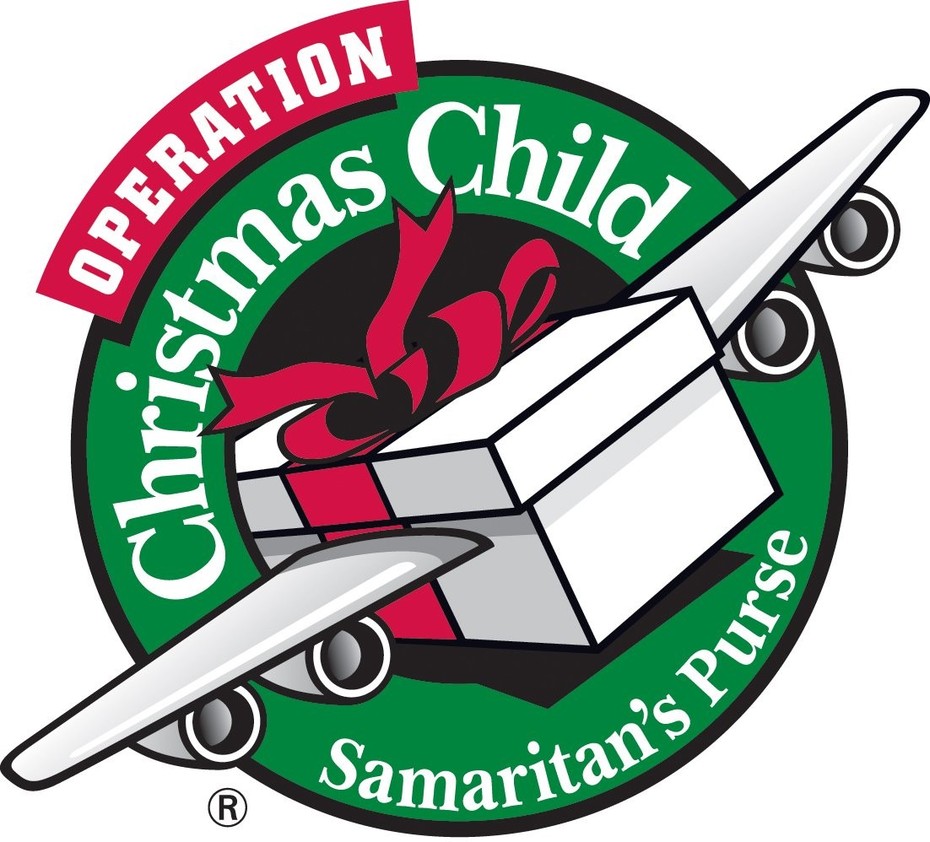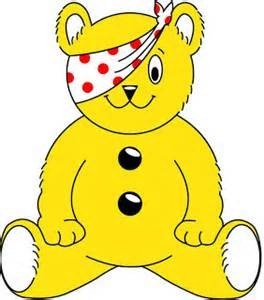 The Slip End school community supports many charities throughout the year. Through doing so, pupils gain an awareness of the needs of others and learn the skills of good citizenship.
This year so far we have sold Remembrance Day poppies in school, held a 'Be a Hero' Mufti Day for Children in Need and once again filled shoe boxes for Samaritan's Purse Operation Christmas Child.
Thank you once again to the whole school community for your kindness and support.
Children in Need
This year for Children in Need, the School Council decided that they would like everyone to come to school dressed as a Superhero and donate money to the charity.
It was a wonderful, happy day and we enjoyed being able to help others. £120 was raised.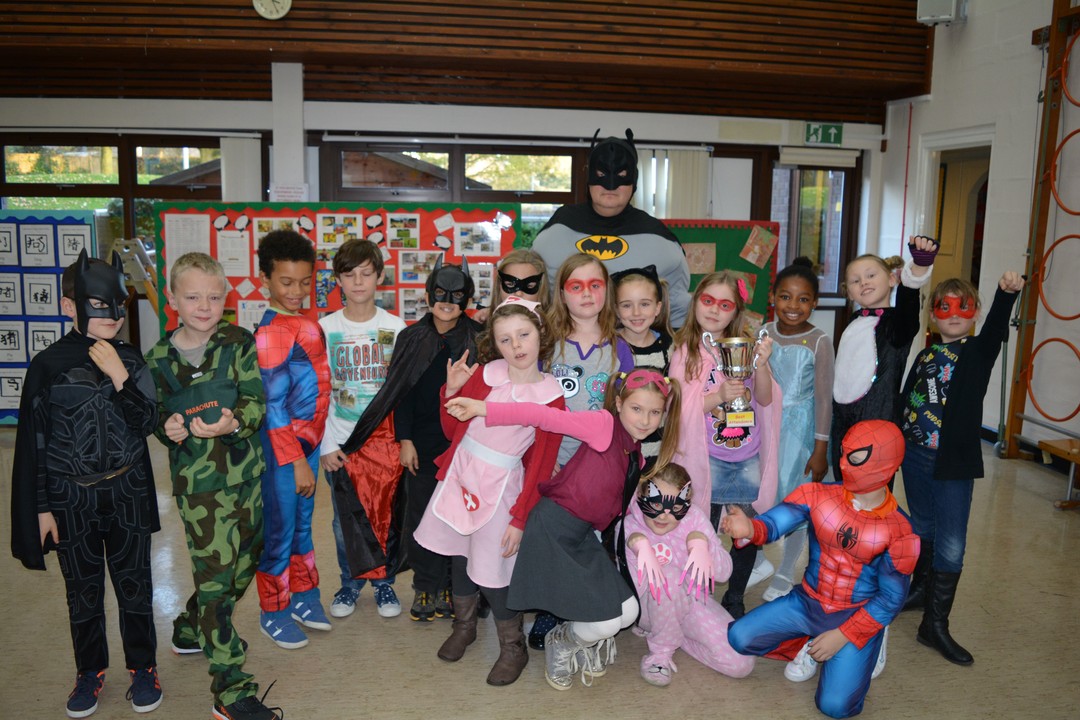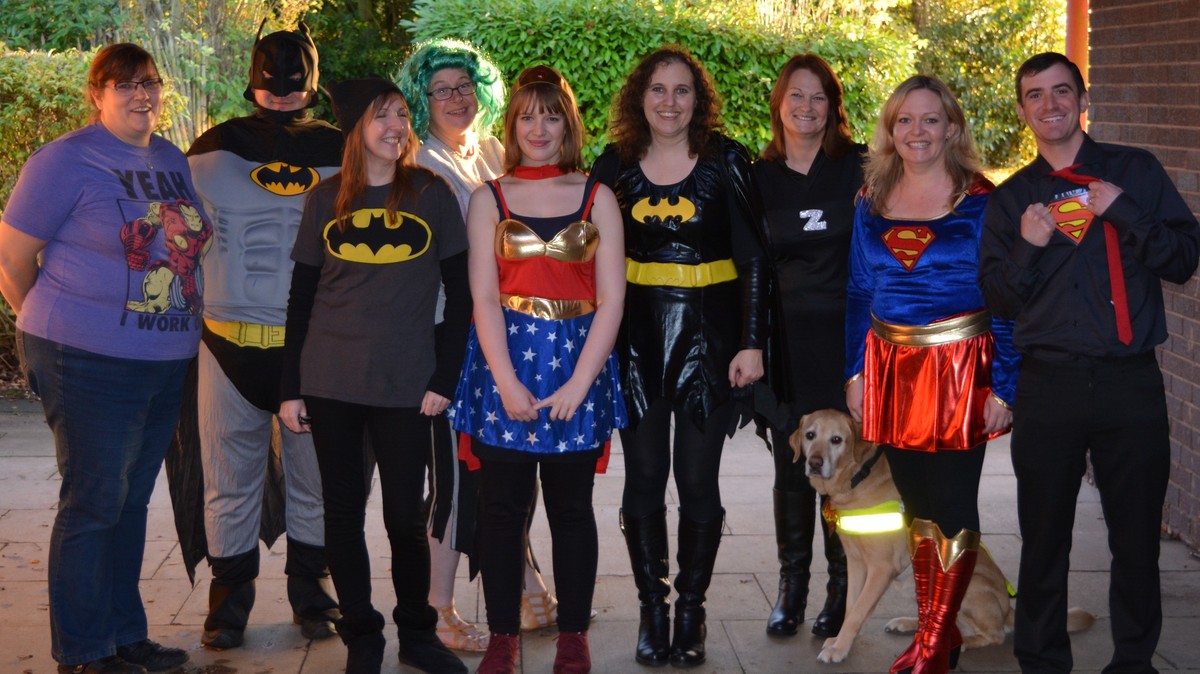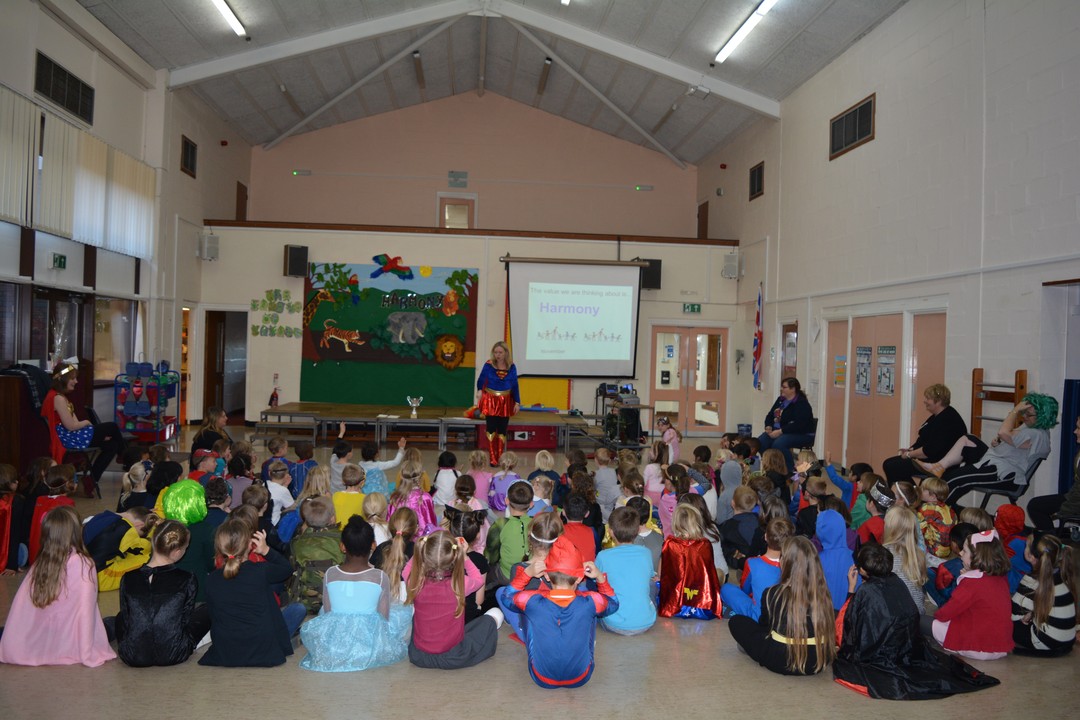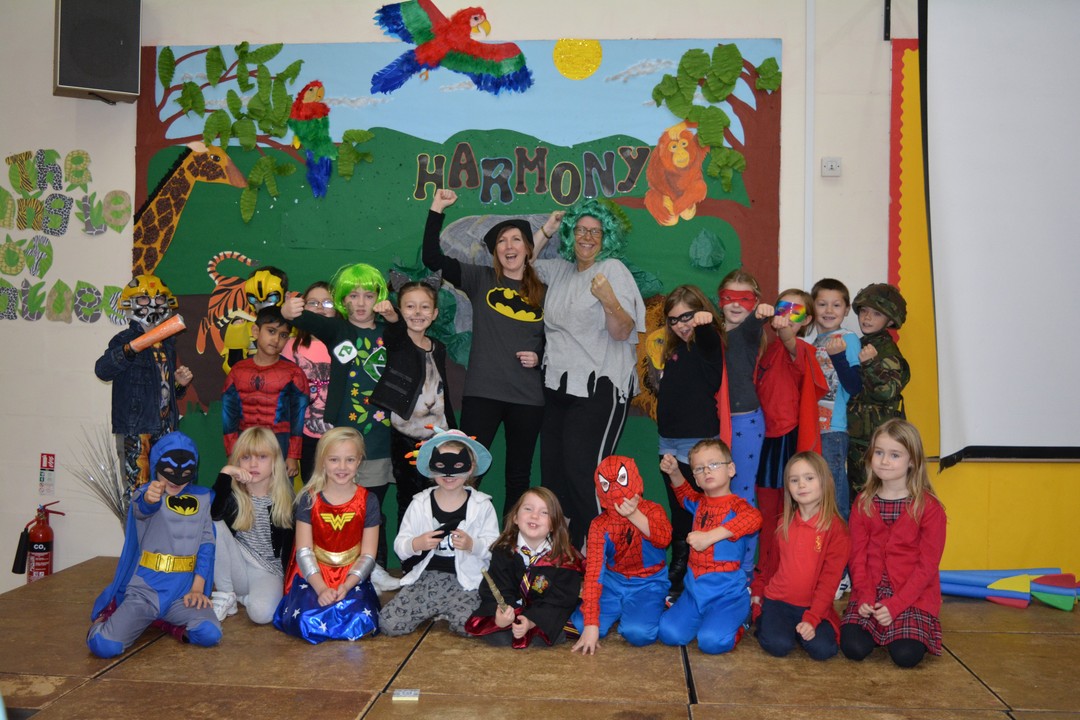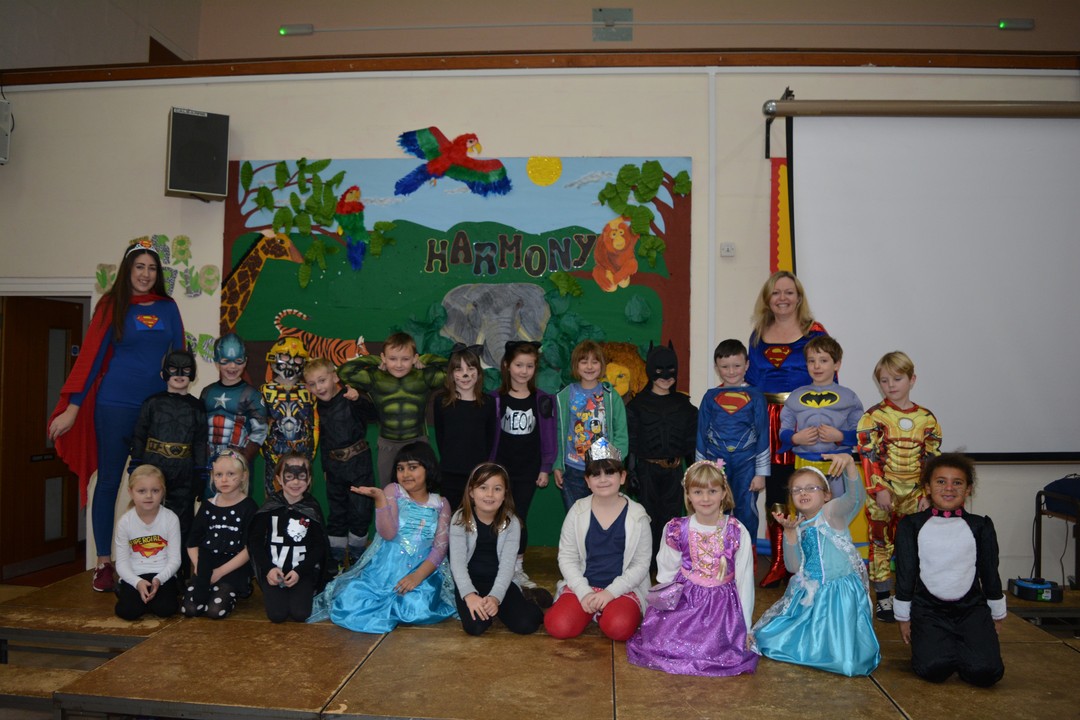 Thank you!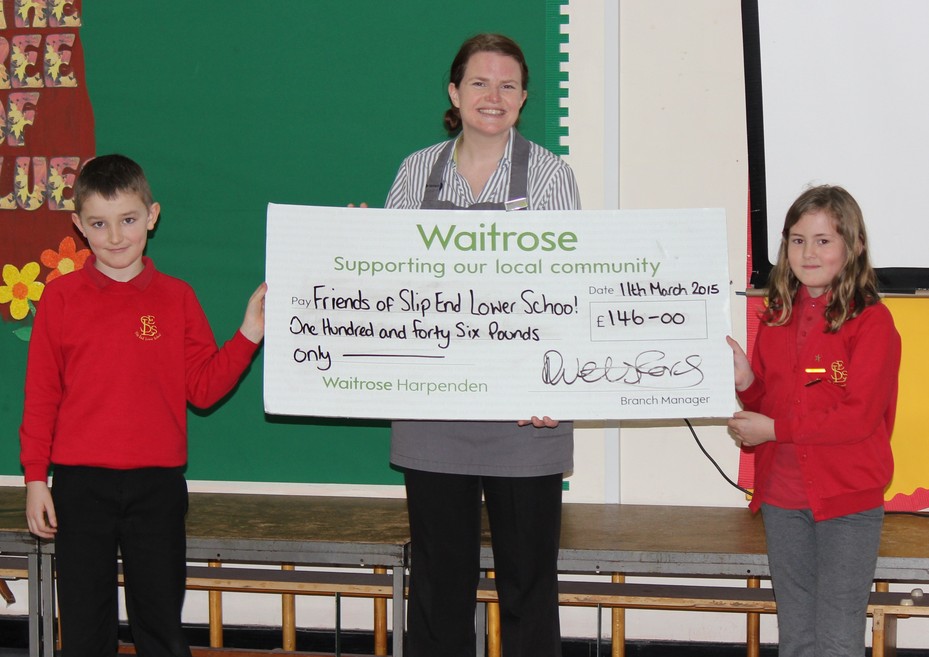 We would like to thank the community for helping to raise money for our school by placing shopping tokens in our charity tube at Waitrose. Above you can see our Year 4 School Councillors receiving the cheque in assembly. We would also like to thank FoSELS for organising this March 2015 event.